Today my 6th graders demonstrated how to do "something" for 4-H. Some demonstrated how to use chopsticks, some how to build a birdhouse, some how to play the guitar, and most demonstrated how to bake brownies, cookies, and my favorite chocolate crackers.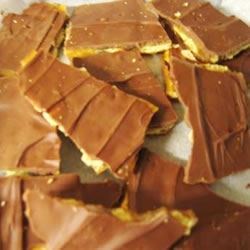 My student, K-, handed out little bags of crackers to me, my teacher, and the 4-H lady. I broke off a corner while the 4-H lady told my class about 4-H camp this summer and ate it. Chocolate saltiness exploded in my mouth and I quickly broke off another piece. By the end of the day my bag of crackers was empty, and when I got home from school I looked up the recipe. I plan to make these very soon.
Saltine Chocolate Crackers
Ingredients
4 ounces saltine crackers
1 cup butter
1 cup dark brown sugar
2 cups semisweet chocolate chips (My student used half dark chocolate and half white chocolate chips, which I would recommend)
3/4 c. chopped pecans (My student did not add nuts, but I think I will when I make these)
Directions



Preheat oven to 400 degrees F (205 degrees C).

Line cookie sheet with saltine crackers in single layer.

In a saucepan combine the sugar and the butter. Bring to a boil and boil for 3 minutes. Immediately pour over saltines and spread t cover crackers completely.

Bake at 400 degrees F (205 degrees C) for 5 to 6 minutes. Remove from oven and sprinkle chocolate chips over the top. Let sit for 5 minutes. Spread melted chocolate and top with chopped nuts. Cool completely and break into pieces.
Enjoy!